Old5a Florida Land 2.3 Acres North of Stuck Way Rd
2.3 acres of Land on Canal in Brevard County Florida

near i-95 near Volusia County
Florida Recreational Land for Landowners
Cape Atlantic Estates ( Old 5a ) 2.3 acres of Canal front drainage ditch Florida land for $ Sold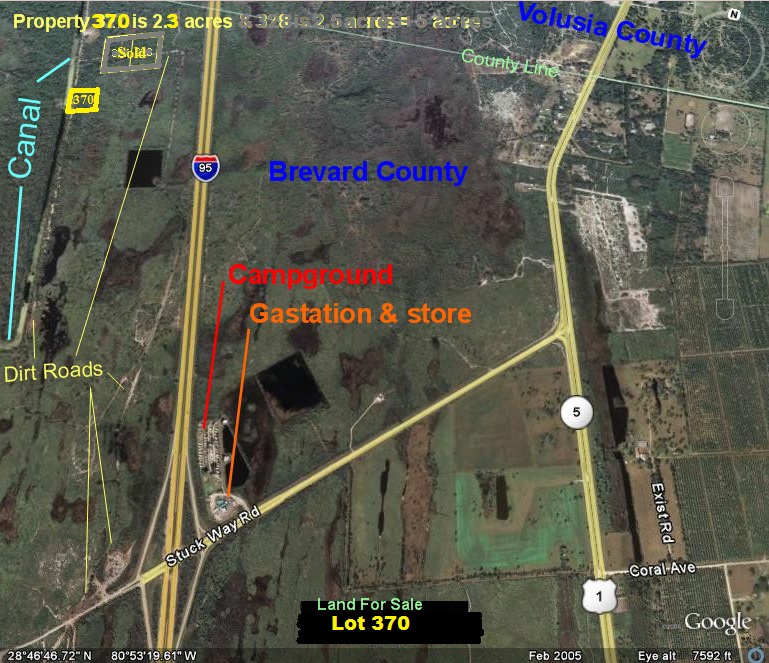 Land near exit 231 or old exit 5a off I-95 & Stuck Way Rd, Mims area
Aerial view of property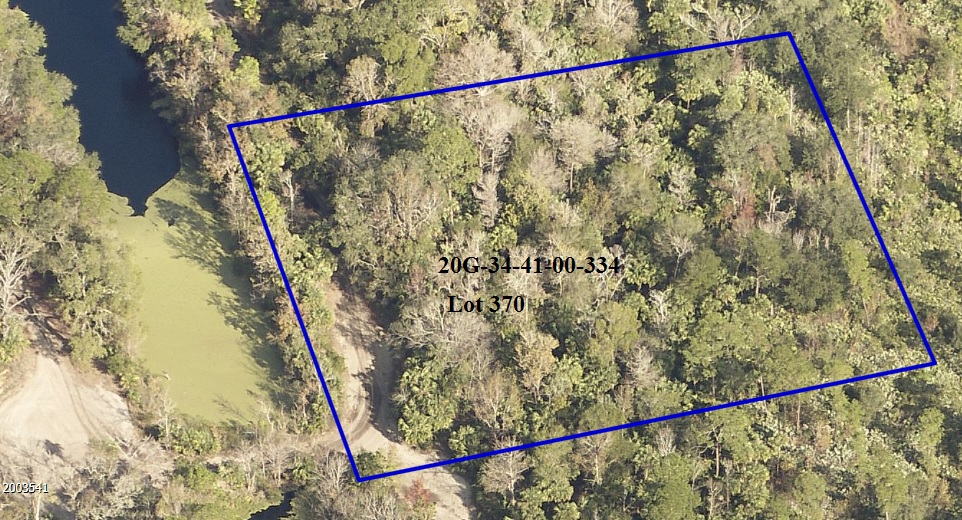 Aerial view of property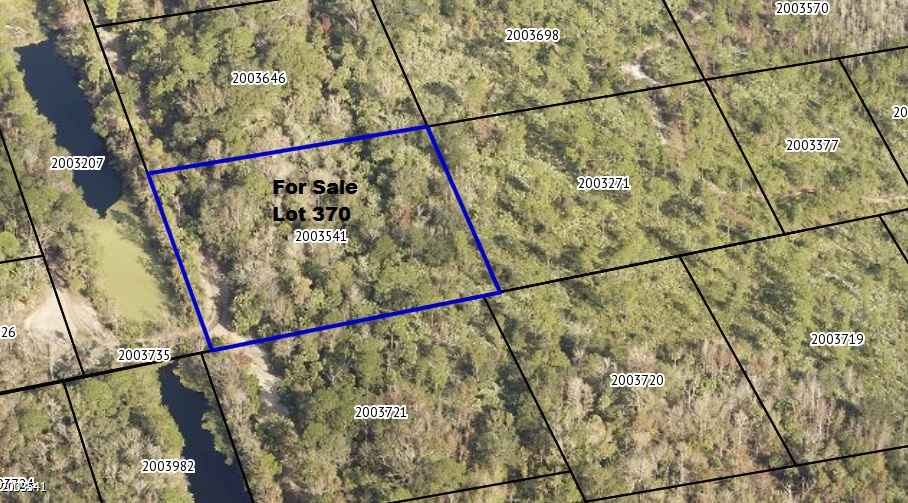 Aerial view of property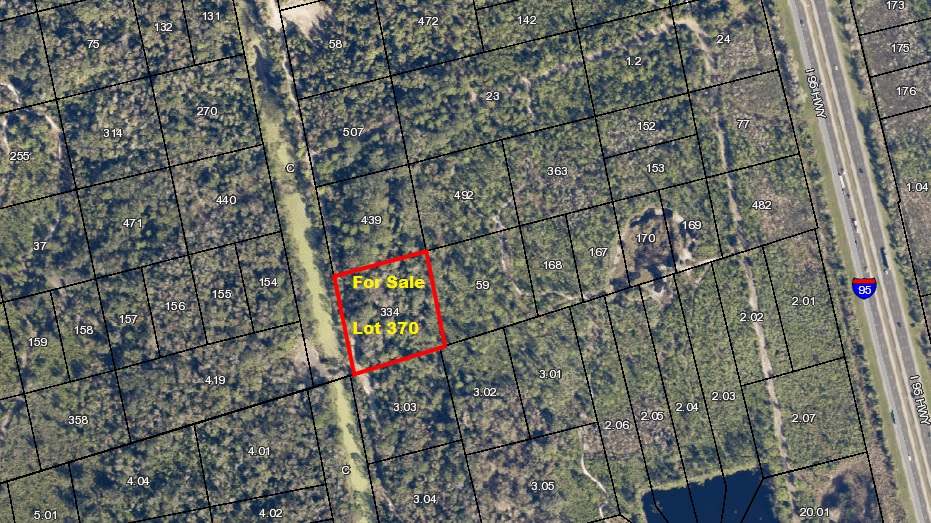 Aerial view of property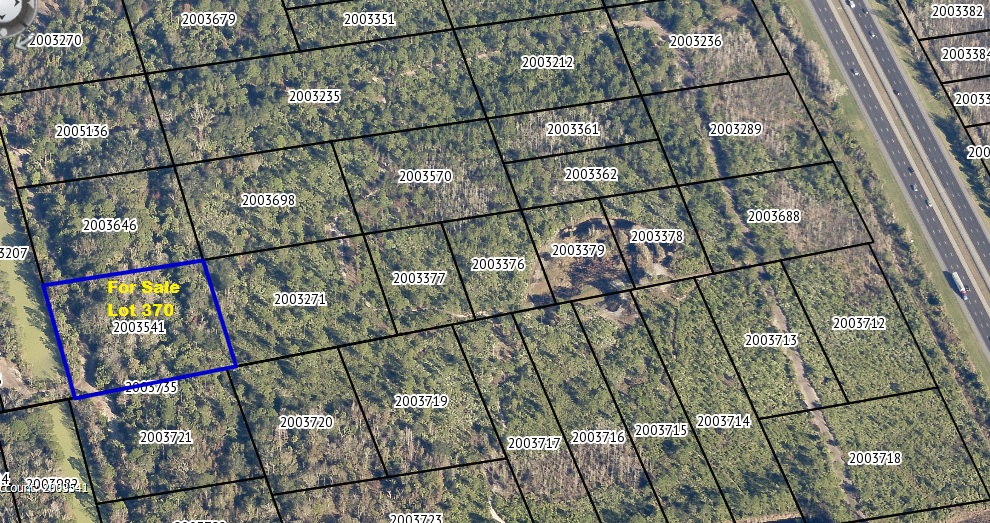 Aerial view of property
Aerial view of property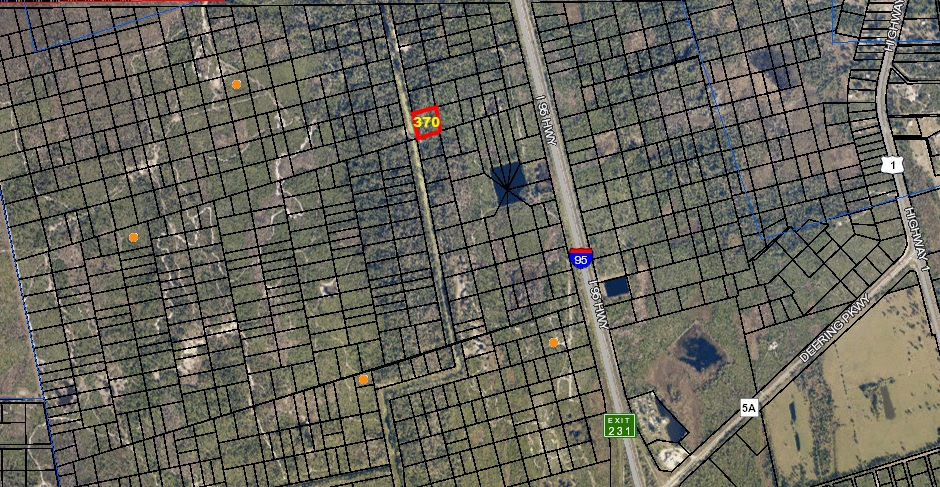 Aerial view of property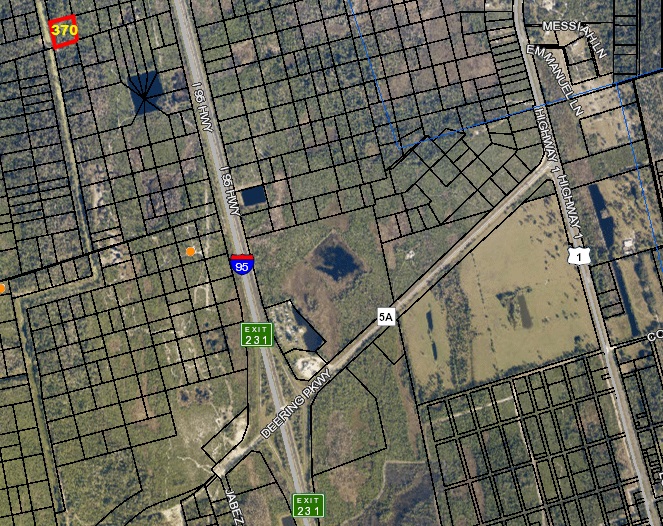 Video of a couple lots away, property around the corner:
Short Parcel, # 20G344100-334.0
Long Parcel #20G-34-41-00-00334.0-0000.00
Pictures of typical land around the corner of the property:
Pictures of the canal next to the property:
FLORIDA LAND 2.3 Acres Osteen Oak Hill area
off Stuck Way Road and i-95 FOR SALE
DRIVING DIRECTIONS: Take Oak Hill / Scottsmoor exit 231 on I-95 just south of the northern Brevard county line, go west, take first dirt road on right north for about one and a quarter mile, follow the main dirt road to the left until arrive at the GPS Coordinates and you are at the property. If you want to visit please use the GPS coordinates below as the road/trail is not labeled.
Dirt road GPS COORDINATES: 28.785573° , -80.903777°
GPS COORDINATES are approximate a survey would be needed to show the exact location which buyer would have to pay for if requested.
The canal and trail near the property.
Trail in the area

i 95 area

All properties in the area have easements for road, utility and drainage right of way.
Some of the trails are in brown, canal and lakes are in blue.
The road and electric will have to be put in by property owners that want to put in the roads and electric.
It is speculation for future residential growth at this time.
With the recent land being bought up in the area residential growth may be sooner than expected.
The lot 370 is outlined in yellow.
Plat of the property lots 370 The brown is where dirt trails are located. Pink are where easements are located.
Plat of the area showing canal, i-95 on the east and Volusia to the north.

West of I-95 just off exit 231 off Stuck Way Rd, Mims, FL zip code area 32754

Map of area

Mims area, Brevard County

Not far from the Canal or I-95

Part Of Lot 1 As Des In Orb 2293 Pg 2078

Aka Tr 370 In Sec K-2 Of Cape Atlantic Estates, Sections 43 and 41 of Township 20 South, Range 34 East, Brevard County, Florida

Aka: Section K-2, Tract 370That portion of the Delespine Grant located in Sections 43 and 41 of Township 20 South, Range 34 East, Brevard County, Florida, described as follows: Commence at the point of intersection of the center line of Interstate Highway 95 (Sta. 3729+47.73) and the North line of said Township 20 South, Range 34 East; Thence run S 13°57'30" East along said center line for a distance of 1225 feet to a point;

Thence, at right angle to the aforesaid course,
run South 76°02'30" West for a distance of 1470.00 feet to the Point of Beginning of the parcel of land hereinafter to be described;
Thence continue South 76°02'30" West along the aforesaid course for a distance of 330.00 feet to a point; thence run North 13°57'30" East for a distance of 368.18 feet to a point on the North line of Lot 2 of the Fontaine Grant (D. B. "D" page 525) also being the North line of the subdivision thereof by Wisconsin-Florida Fruitland Co. (P.B. 2 page 43); Thence run North 73°33'22" East along said North line of Lot 2 for a distance of 330.31 feet to a point; Thence run North 13°57'30" West for a distance of 353.86 Feet to the point of Beginning.

TRACT 370 subject to the South and East 30 feet for road, utility and drainage right of way

.

SECTION K-2 CAPE ATLANTIC ESTS

Taxes are $

Taxes are paid.


The properties in the area were or are being used for recreation, Camping, Hunting, ATV motorcycling, fresh water fishing, horseback riding.

These properties are close to the I-95 on and off ramp!

Six lots from Brevard / Volusia County border.

Notice the dirt road or trail that goes along the property.

Aerial showing the general area around the property location.

Property north of Stuck Way Rd.

Pictures of the local area:
Cell Phone Tower of Stuck Way Rd.

Stuck Way Rd & I-95 heading west.
(The dirt roads / trails are just on the other side of I-95 leading to & past the property.)

Gas Station on Stuck Way Rd & I-95.
Crystal Lake RV Park on Stuck Way Rd & I-95.

Corner of Stuck Way Rd & I-95 4x4's, ATV motorcycles, & Hunters.
(This is where the locals were parking to have some recreational fun using the many dirt roads &
trails that lead way past the properties.

Parking lot on Stuck Way Rd
Stuck Way Rd heading to I-95
The trails lead all the way to Maytown Rd in Osteen, Florida in Volusia County.
Hunters on Maytown Rd in Volusia County where trails lead.

Typical trail in Cape Atlantic Estates.

Maytown Rd where trails lead.

Typical trail in Cape Atlantic Estates.

Cape Atlantic Estates is located just North of exit 231 on I-95 off a road called Stuck Way Rd in Brevard County & goes way past North of old exit 83 on I-95 where the interstate goes over a paved road called Maytown Road around the Oak Hill area in Volusia County.
This acreage is located West of I-95 off Stuck Way Rd in Brevard County & South of Maytown Road in Volusia County, Florida. This property is raw, virgin, & undeveloped land with dirt trails in the area. No services are in place at this time and should be considered as land for speculation of growth for the Brevard County County area. Upon inspection of the County map you can see it is ideally located near I-95. The property is not far from i-95 & is next to the canal. A lot of dirt trails are in Cape Atlantic Estates stretching out into all directions. I have seen this Brevard County property years ago. The plat map & aerial views will help you locate the property.
Distance to points in Florida:
* Daytona Beach 30 miles
* Kennedy Space Center 30 miles
* Cape Canaveral 38 miles
* Orlando 60 miles
* Jacksonville 127 miles
By purchasing this property you agree you have done your research to purchase this property as is.
This property would be best served by someone who could enjoy the use of the land.
I guarantee that this property is free and clear of all liens,
encumbrances. Property taxes are paid.
Title will be transferred on a Special Warranty Deed when all payment have been made in full.
I accept Cashiers Checks, U.S. Postal Money Orders. Cash in person.
or
I live in Florida Call 609-703-4567
You should visit the property and perform a visual inspection of the Real Estate. I have been to the property about nine years ago. You should do your research on the real estate and perform all due diligence, including a site inspection, and contacting the county where the land is located. Every effort is done to provide as much information about the parcels listed.
Pictures of the properties are stated here pictures of the properties near the lot, which include the dirt road seen.
Land is "as is". Some pictures are not of the actual lot. The pictures are of the general area. (Unless otherwise stated).
If at any time you have any questions regarding this asset, or if you do not clearly understand please contact:
I am not a real estate agent I own this property. I am an individual not a developer.
I have been selling land in Florida since 2003
This does not constitute an offer where prohibited by law.