5088 Thoms Run Rd South Fayette , Presto PA 15142 , Oakdale PA 15071 House near Pittsburgh For sale: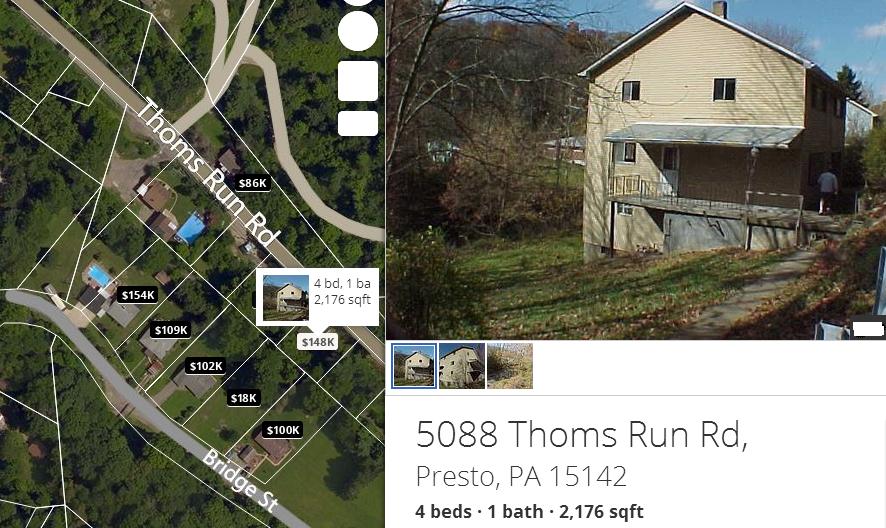 Price $60,000.00 Make Offer!
5088 Thoms Run Rd Presto PA 15142
Tax Assessed Value $128,00.00
4 bedroom, 1 bath, kitchen, dinning room, living room, Den
2,176 sq ft House plus 1,088 sq ft full basement
Check this house out on Zillows.com
Most of the windows have been replaced since picture.
Stream in back yard
Kitchen has been painted since picture

Living room
Den

Bath room

Master bedroom

2nd bedroom
3rd bedroom

4th bedroom? Maybe walk in closet?

The kitchen, living room & dining room have been repainted.
Most of the windows on the 1st and 2nd floor have been replaced.
The walls have been insulated.
The 4th bedroom plaster has been taken down & had insulation put in the walls, now it is ready for sheetrock.
Zillow Estimate Value as of 9-15-2018 $170,000.00
Rental Zestimate
$1,200/mo
The house does need work & that is why it is $60,000.00
Call or Text Keith 609-703-4567
email: landintheusa@aol.com
© Copyright 2018 LandintheUSA.com, All Rights Reserved